I got a little personal in my last post, so this time I'm going to counterbalance it by talking about cute Japanese toys that were announced recently!
First up, the European company,
1UP2P
, has some out with some officially licensed
Bubble Bobble
plush toys of both Bub and Bob that are beyond adorable! I've always loved
Bubble Bobble
and have fond memories of late night gaming sessions with my friends where we managed to beat the
final boss
! European residents should be able to nab them soon from
1UP2P's website
and those in the US can get them from
Unbox Industries
. (I guess these plushies aren't technically
Japanese
but they're licensed from a Japanese company so close enough!)
(Via
Nintendo Life
)
Next, new
EarthBound / Mother 2
figures are coming out in Japan in honor of the game's 20th anniversary! (Oh, god! Has it really been 20 years??) The figures are of the main cast and Mr. Saturn! I love the Mother series, so I have a feeling I'm going to be trolling gachapon machines in October trying to collect these!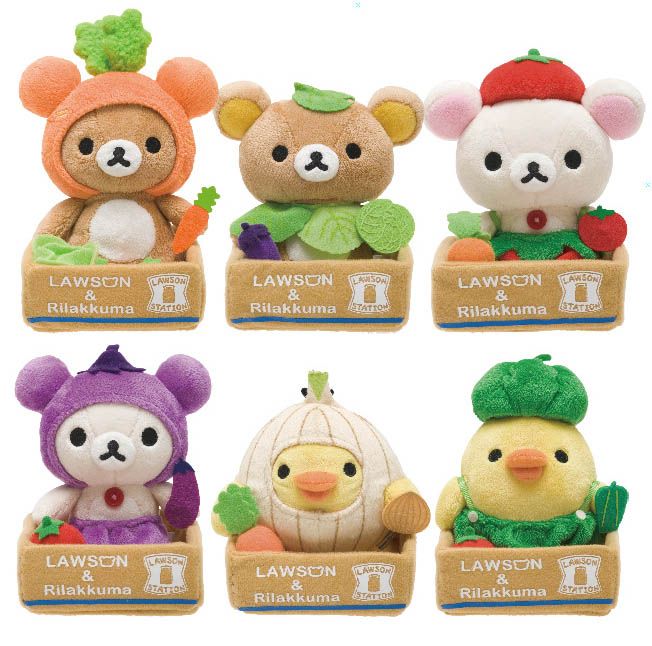 (Via
Akihabara News
and
apricotsushi
)
Finally, Japanese convenience store chain, Lawson, has teamed up with San-X to make these crazy
Rilakkuma
vegetable plushies! (Rilakkuma is an adorable relaxation loving teddy bear mascot character whose name is a portmanteau of the English word "relax" and the Japanese word for "bear") I can't take how cute these are especially the eggplant Korilakkuma one!! I've loved Japanese cartoon eggplants ever since playing
Kid Icarus
and
Ice Climber
! Sadly, it looks like these are only sold in Lawson convenience stores, so you're out of luck unless you're in Japan.
That's all for now, but maybe I'll make this a recurring series!